Wor­ship at St Luke's is based around the Euchar­ist, also known as Holy Com­mu­nion or The Lord's Supper.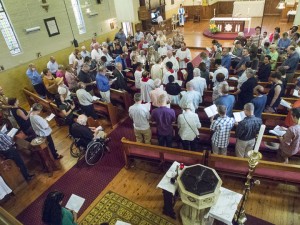 When we meet for wor­ship on Sunday morn­ings we sing, hear bible read­ings, a talk from the priest or spe­cial guest preach­er to help apply the bible read­ings to our lives, we pray for the world in all its needs, and then we gath­er to receive the bread and wine.
At our gath­er­ings the priest and his assist­ants wear tra­di­tion­al robes, there are candles on the altar, and we use A Pray­er Book for Aus­tralia for our liturgy (pray­ers). We are very tra­di­tion­al in that we also use incense and sanc­tu­ary bells. This tra­di­tion helps us in com­ing before God in "the beauty of holi­ness" to quote one of our hymns.
We aim to be very wel­com­ing towards all new­comers to help them get the most from our times of wor­ship as we come into God's pres­ence togeth­er. We also provide a beau­ti­ful morn­ing tea after­wards if you can stay on afterwards.
Details of our wor­ship are as follows:
Sundays
9:30 am Sung Euchar­ist every Sunday.
6pm Even­ing Ser­vice on 1st Sunday in the month.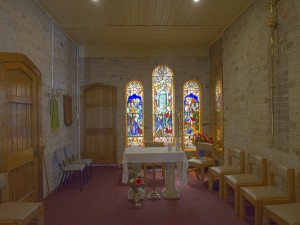 Wed­nes­days
10.30 am in the St Augustine Chapel. There is also the offer of pray­ers for heal­ing at the con­clu­sion of this service.
Save