We are hop­ing to res­ched­ule this recit­al to a date to be fixed either later this year or early next year. Please watch this space for future updates.
---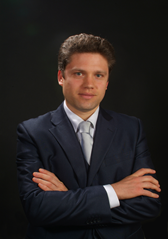 Inaug­ur­al recit­al by Dav­id James Rec­cia Chynoweth
fol­low­ing the com­ple­tion of the final stage of the res­tor­a­tion of the his­tor­ic
Wordsworth and Maskell Organ of 1883.
Works by J S Bach, Koehne, S S Wes­ley, Elgar and Guil­mant.
---
From Vienna to Enmore, accom­plished young Aus­trali­an organ­ist, Dav­id Rec­cia Chynoweth, per­forms works by J S Bach, Graeme Koehne and oth­ers on the 1883 Wordsworth & Maskell Pipe Organ here at St Luke's Anglic­an Church.
Encour­aged by his late grand­fath­er, Anglic­an Bish­op Neville Chynoweth, him­self also a musi­cian, Dav­id received his first piano les­sons at the age of six and con­tin­ued to receive music­al tuition through­out his child­hood. Fol­low­ing his HSC at Can­berra Gram­mar School he moved dir­ectly to Europe to begin his music stud­ies. At the con­clu­sion of stud­ies in Vienna, he was awar­ded his Mas­ter of Music with a major in Organ per­form­ance.
Since 2011, Dav­id has per­formed extens­ively in Aus­tria, the United States, Spain, Ger­many, Eng­land and in Italy, where he cur­rently resides. He has been invited to hold eight inaug­ur­a­tion con­certs of new and restored old instru­ments.
In 2017, Dav­id was one of few organ­ists from all over the world, and the only Aus­trali­an in recent years, to be chosen to par­ti­cip­ate in the cel­eb­rated St Albans Inter­na­tion­al Organ Fest­iv­al Com­pet­i­tion (UK).
From his cur­rent home in Italy, Dav­id con­tin­ues to per­form in Europe, Aus­tralia and the United States and is return­ing after his extens­ive and suc­cess­ful tour of Aus­tralia in 2018. This will be his only per­form­ance in Sydney this year.
Our her­it­age-lis­ted organ, con­sidered power­ful for its size, is a unique example of its kind in Aus­tralia. This is its inaug­ur­al recit­al fol­low­ing the com­plete res­tor­a­tion of the instru­ment to its ori­gin­al high Vic­tori­an glory.