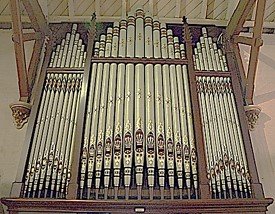 WORDSWORTH & MASKELL PIPE ORGAN RECITAL
Sunday, 5 Septem­ber 2021 at 3pm – Keep and broad­cast the date
Well-known to Sydney audi­ences, St Luke's is delighted to wel­come Heath­er Moen-Boyd to per­form an inaug­ur­al recit­al on the Church's unique 1883 Wordsworth & Maskell Pipe Organ.
From Moz­art to Mendels­sohn, whose works were per­formed at the instrument's 1884 recit­al, the per­form­ance will also include Samuel Barber's Adagio to mark Yom Kip­pur and Septem­ber 11, and pas­tor­al bird­song to her­ald the com­ing Spring.
RSVP: At present it is unclear wheth­er any pan­dem­ic restric­tions at the time will per­mit an audi­ence to be phys­ic­ally present, or if an audi­ence is per­mit­ted, the num­bers and require­ments to ensure the safety of the artist and the audi­ence.
A fur­ther update will be provided by Fri­day, 27 August 2021.
Expres­sions of interest to attend: organatenmore@gmail.com