NOTICES:
---
The flowers in the church today have been donated by Noel Jeffs in memory of The Right Rev'd Bruce Wilson (23 August 1942 — 20 March 2021). Bp Bruce died after a long struggle with car­di­ac ill­ness. His funer­al was held at St James' King Street Sydney on 29 March at 10 a.m.
Bp Bruce was deeply loved by Zandra, Richard, Anthea, Kev­in, Thomas, Samuel and Haakon. Fol­low­ing his ordin­a­tion in Decem­ber 1965 Bp Bruce began a long min­istry of pas­tor­al care and theo­lo­gic­al lead­er­ship, includ­ing chap­lain to the Uni­ver­sity of NSW; Rect­or of St George's Pad­ding­ton; Dir­ect­or St Mark's Theo­lo­gic­al Centre, Can­berra; Assist­ant Bish­op Dio­cese of Canberra/Goulburn and finally Bish­op of Bathurst. He was the first Bish­op to ordain women in NSW (1992) being a long-time sup­port­er of MOW (Move­ment for the Ordin­a­tion of Women); was the founder of the Ere­m­os Insti­tute, a mem­ber of the exec­ut­ive of the Nation­al Coun­cil of Churches and pub­lished a num­ber of books includ­ing "Can God sur­vive in Australia?"
Please see the Church Foy­er Notice board and Hall Poetry Board for fur­ther inform­a­tion on Bp Bruce and a selec­tion of his ser­mons, writ­ing etc.
---
Note regard­ing Morn­ing Tea: We have taken one step for­ward in hav­ing home baked good­ies how­ever, social dis­tan­cing still applies. You must still be seated at a table and then you will be served. So please do not try and line up for a cuppa! Please be patient — it will come to you!
---
This Week:
Ascen­sion Day Cel­eb­ra­tion at Christ Church St Laurence:
Fr Jeff has been invited to preach at the Ascen­sion Day ser­vice at Christ Church St Laurence. This will be held at 6.00 p.m. on Thurs, 13 May.
As happened two years ago, mem­bers of St Luke's Enmore are warmly invited to attend this ser­vice to cel­eb­rate this import­ant event in the story of Jesus with our broth­ers and sis­ters from CCSL.
Fr Daniel added this inform­a­tion to his gra­cious invit­a­tion to us: There is no need for people to pre-book, but they would simply need to register on arrival. We're not up to doing refresh­ments after ser­vices, but some of our par­ish go over to the Great South­ern Hotel for a meal after even­ing Masses. St Luke's people would be more than welcome.
Next Week: Sunday 16th May
Vis­it by Bish­op Don­ald Kirk to St Luke's Enmore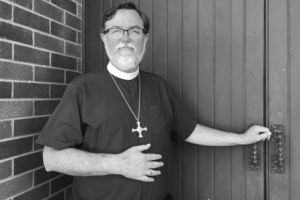 Bp Don­ald, the Bish­op of Riv­er­ina Dio­cese, will be our Preach­er at our 9.30am ser­vice. He is the Bish­op of the Dio­cese in which Mandy Tib­bey was recently installed as Chancellor.
Bp Don­ald and Fr jeff have been acquain­ted for many years with Bp Don­ald being a newly ordained priest when Fr Jeff and Michelle were attend­ing Mor­peth College.
It will be a great pleas­ure to wel­come Bp Don­ald to our par­ish for this occasion.
If any­one has any unwanted small plastic plant pots Kathy Drum­mond would like some to pot up plants for the Op Shop. Thank you.
---

Cinema Para­diso: - 3.45pm for a 4pm start on Sat­urday, 29 May 2021 in the Church Hall, wine at interval.
RSVP required by 23 May 2021 to Brett via brettdavies2042@gmail.com or Mob: 0431 133 193.
Should you wish to con­trib­ute to cater­ing, please let Brett know by 23 May.
Film: 1987 Dan­ish film Babette's Feast, which won the Academy Award for Best Inter­na­tion­al Fea­ture Film in that year.
---
Lea MacNeil has jam, con­serves, pickles and vari­ous sauces to sell; please email her at lea.macneil@gmail.com to order them from her. Don­ald, her hus­band can deliv­er your spe­cif­ic order to the Opshop where it can be paid for. All pro­ceeds go to St Luke's Parish.
Food for our worms – Food scraps (no dairy, cit­rus or meat) can be left in the buck­et provided. This is part of our Par­ish envir­on­ment­al initiative.
---
Weekly Inter­ces­sions for our Community:
Sunday: Mar­ilyn Gibbs; Kev­in Green; Peter Gil­bert & Alfredo Narnolo; and Stu­art Grigg & 'Tri­cia Blomberry.
Monday: Richard Hagen & Som Siritham­makij; and Selina & John Hardy.
Tues­day: John, Martha & Chris­toph­er Haly; Susan Hill, Janet Broady & Alex.
Wed­nes­day: Moya Holle; Anne Hywood & Peter Tre­gil­gas; and Pamela Jaksic.
Thursday: Noel Jeff; Eddy, Mint, Atom & Arty Kit­tir­at; and John Lo.
Fri­day: We pray for Fr John Bunyan's pas­tor­al care min­istry at Bank­stown Hos­pit­al and all those he min­is­ters to.
Sat­urday: Dear lov­ing Fath­er, please deliv­er us from the coronavir­us and lim­it its impact on Aus­tralia and the world. In your mercy bring a swift end to this crisis, par­tic­u­larly in India. Please pro­tect with your lov­ing care those we love — our fam­il­ies, friends and neigh­bours. Let your fath­erly hand guide, shel­ter and strengthen them. Cast out all anxious fears and doubts. Give us an increas­ing trust in you and fill our hearts and minds with your peace. We pray for those around the world now strug­gling with COVID-19. Heal and com­fort those who are sick and suf­fer­ing. Pro­tect and guide the health pro­fes­sion­als who are at the front line. Please give wis­dom and cour­age to those who bear respons­ib­il­ity for con­front­ing this chal­lenge. We ask these things through the power­ful name of Jesus. Amen.
---
Pray­ers for the sick: Pamela Jak­sic; Colin Spokes; Peter Cinelli; John Can Pahali; Alex Regos; Aman­da Cow­ley; Fr Phil­lip Carter; Peter Knox; Sr Colleen Crook; Nada G.; Br Wil­li­am; Ron Clarke & his fam­ily; Lyn­dall McCar­ron; Maurice Pope & his fam­ily; Raul (Skid Row Radio) & fam­ily; Barry McKay; Ruth Dodd; Christina Rees (CBE); Deepika & Deep­shi­ka; and Andrew Stratgolda.
Anniversar­ies of the Depar­ted: Allan Peime; George Nix­on; Ben Doyle; Edelmira Lorca; and Myra Hack.
Saints Com­mem­or­a­tion: 13th: Ascen­sion Day; and 14th: Mat­thi­as, Apostle and Martyr.
Long Term Pas­tor­al Pray­er list: Lyn Car­ring­ton; Steph­en Thur­ley; Wolf Winter; John Dick­son; John Hardy; Andrew Reddy; Shir­ley, Bar­bara & Jade Allen; Br Noel Jeffs (SSF); Kiki Chun; Beth Arm­strong; Ann Jeffs; Rhi­an­non Henry-Edwards; Marissa; Jude, Isla, Meg & Al Don­nell; Suz­anne Camp­ton; Pau­line Newell; Bar­bara Beec­roft; Ann Con­nolly; Day­alan Sam­inath­an; Kuwert; Grace & Han­nah Ashton; Anaisha, & her par­ents Anu & Digvi­jay; Ron Nath; Ron­an Nath; Veron­ica Nath; and Rev Laurie McIntyre.
---
Read­ings for Next Sunday — Sunday After Ascen­sion — 7th Sunday of Easter:
First Read­ing: Acts 1.15–17, 21–26 Psalm: 1
Second Read­ing: 1 John 5.9–13 Gos­pel: John 17.6–19
---
Read­ings for the com­ing week: Even­ing Pray­er
| | | | |
| --- | --- | --- | --- |
| Sunday | Acts 13.44–14.7 | Ps 99 | John 15.17–27 |
| Monday | Judges 6.25–40 | Ps 27 | 1 Cor­inthi­ans 10.1–11 |
| Tues­day | Judges 7.1–22 | Pss 30; 32 | 1 Cor­inthi­ans 10.12–22 |
| Wed­nes­day | Isai­ah 3.7–14 | Ps 99 | Colos­si­ans 2.20–3.4 |
| Thursday | 2 Kings 2.1–15 | Ps 110 | Rev­el­a­tions 5.1–10 |
| Fri­day | Judges 8.1–3, 22–35 | Ps 119.17–40 | 1 Cor­inthi­ans 10.23–11.1 |
| Sat­urday | Judges 9.1–22, 50–57 | Ps 37.18–41 | 1 Cor­inthi­ans 11.2–16 |
Points for Thought and Dis­cus­sion From Work­ing Preacher.org
Con­trast ser­vants and friends. When do you feel like a ser­vant and when a friend of Jesus'? (John 15:15)

The floods and hills praise God (Psalm 98:7, 8). When and where do you

exper­i­ence nature prais­ing God?

What are cur­rent par­al­lels to the divi­sion between Jews and Gen­tiles that was

healed in Christ? (Acts 10:45)
This week's Reflect & Con­nect ques­tions writ­ten by Lynne Baab